Body
George Mason University's Office of the Provost celebrated the launch of the Graduate Division at a kick-off breakfast ceremony on Jan. 31.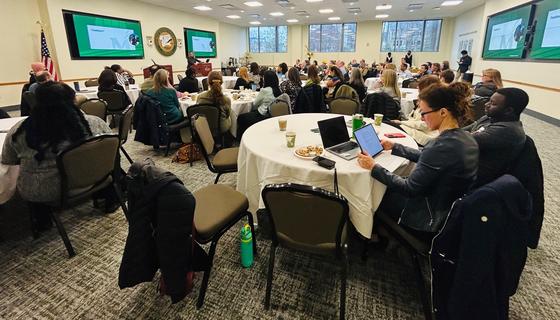 The new Graduate Division, directed by Associate Provost Laurence Bray, plays a lead role in preparing well-rounded and diverse graduates to contribute to research productivity and workforce development.
Bray's team will be responsible for building a robust foundation to maximize graduate student academic success (retention, degree completion, and time-to-degree), as well as fostering a culture of diversity, equity, and inclusion that serves both the Commonwealth of Virginia and the nation. ​
"The Graduate Division will help elevate Mason graduate education in each college and school by increasing the visibility and impact of their graduate programs, coordinating efforts and sharing best practices, and maintaining a standard of integrity while recognizing the different needs of graduate programs," Bray said.
The new division will take a multifaceted approach to creating nondiscipline-specific support structures to promote graduate student success, including a university-wide graduate student orientation available throughout the entire graduate journey. Other support structures will include financial assistance, training opportunities, and well-being programs with an emphasis on student belonging, community, and inclusion.
The division will also provide additional support for the academic units and central offices to offer and sustain flexible and multimodality educational, research, and professional opportunities for graduate students.
This summer, in preparation for the Fall 2023 semester, the division will provide a new graduate student online onboarding module and graduate teaching training.
The online onboarding platform, hosted in MasonLEAPS, is designed to welcome, inform, inspire, and prepare new incoming students for a more successful transition to graduate school by providing information from various student service areas available to assist each student throughout their graduate journey. It will also allow all new and current graduate teaching assistants and graduate lecturers to receive fundamental training to be effective and successful in the classroom.
A new Graduate Resource and Academic Development (GRAD) Center, currently under development, will provide graduate students and postdoctoral fellows one location to access key resources and support for their success. ​This central location will enable the development and promotion of programs and experiences for students' personal and professional growth, as well as assist in the navigation of various administrative services and consultations. The center will also foster collaboration across disciplines and offices to enhance the infrastructure that supports graduate education.
"We hope the Graduate Division will foster more partnerships and relationships, as well as alumni and community engagement," Bray said. "We are definitely part of the Mason story and as such we are part of the growth and change that is impacting our community."