Body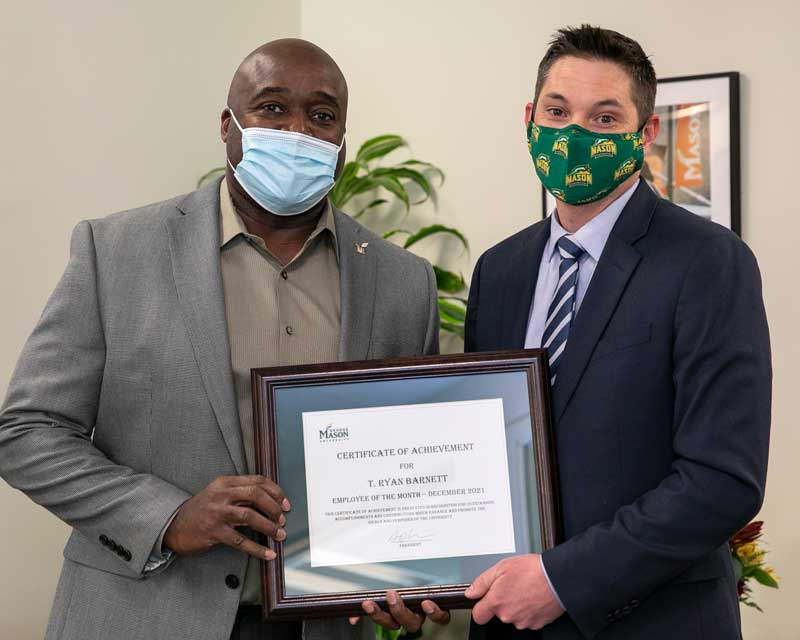 Ryan Barnett joined George Mason University's Office of Military Services (OMS) to provide the help and support to military-affiliated students the way OMS did for him.
"I jumped on the position because I wanted to be able to provide that help to the next group of people coming through the doors," Barnett said.
As associate director of OMS, Barnett provides military-affiliated students with one-on-one support for everything from financial aid to counseling to career services. He often works with other Mason offices, such as Housing and Residence Life, the Global Education Office, and the Center for Culture, Equity, and Empowerment, to ensure military-affiliated students have everything they need to succeed in higher education.
"I personally have never met an individual who better personifies the qualities of leadership, professional excellence, inclusiveness, and service before self," said Daniel Steciak, certification specialist for the Office of the University Registrar.
For his commitment and passion, Barnett is December Employee of the Month.
"Ryan will always find something in common with a person he meets, and he uses that connection to make the other party feel as though he is genuinely interested in them—and he is," Steciak said.
Barnett served as an infantry squad leader in the U.S. Marine Corps deployed to Iraq, Afghanistan, Philippines, and Japan from 2001 to 2009. He graduated from Mason in 2013 with a bachelor's degree in health, fitness and recreation resources. He returned to Mason in April 2015, first as OMS's operations manager, then as assistant director, and was recently promoted to associate director in September.
"I really enjoy and appreciate being a part of the resource that is very accessible to the veteran, to the military member, and to the child and the spouse of the military member," Barnett said. 
"Ryan is simply one of the most generous and caring individuals I have met in my life," said Jennifer Connors, director of OMS.
How he got to Mason:
When I got out of the U.S. Marine Corps, I returned home to Northern Virginia, where I began classes at Northern Virginia Community College and later transferred to Mason. After I graduated from Mason, I worked for the U.S. Department of Veterans Affairs. A job opportunity popped up with OMS, and I took it. As a student, OMS was very near and dear to my heart because it was the only place on campus as a veteran where I felt I could fit in with people who had similar experiences at the time and for resources on how to use my benefits.
Best day on the job:
I really enjoy helping people, and I like that OMS goes out of its way to help people. Any day where we have impacted somebody's life positively is a good day. I recently helped a student veteran, who had been in a motorcycle accident and was in the hospital. The student veteran later came back to Mason to thank us for supporting and visiting him while he was injured. He had found his home and community here. That was a really good day.
What he likes best about working at Mason:
OMS is able to do everything that we do because we have such great employees at Mason. Everybody that I've ever reached out to has always come through. The fact that the Mason community is very supportive just reinforces that we are doing good things.
What he does when he's not working:
Right before the pandemic hit, I started running my own small business of urban hydroponic farming. My goal coming up this season is to be at a farmer's market selling weekly, so I can provide regular donations, monetarily or produce-wise, to local food banks.