Body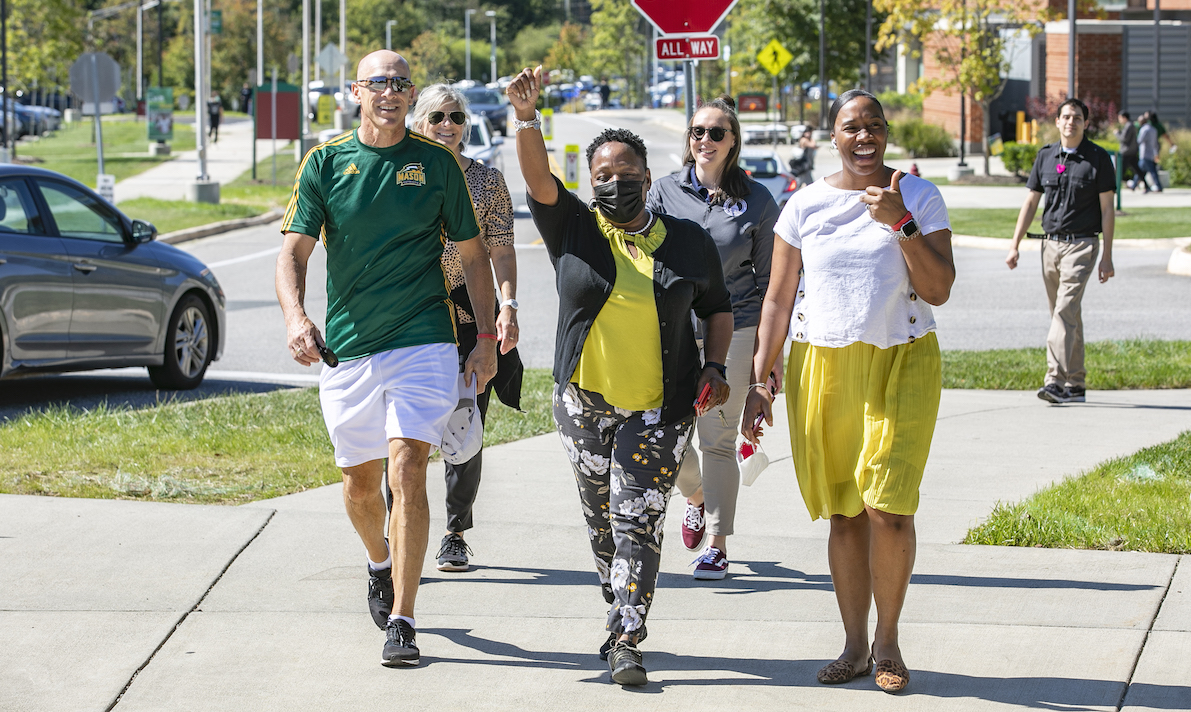 The George Mason University community is celebrating Exercise is Medicine Month this October with a variety of activities.
Regular physical activity is one of the easiest ways to reduce the risk for chronic disease and to improve mental health and quality of life.
"Research has shown that if people make lifestyle changes by adding physical activity to their day, they may avoid going on medications for high cholesterol, diabetes and hypertension," said Debra Stroiney, associate professor in Mason's School of Kinesiology. "The same is true for mental health disorders—symptoms of anxiety and depression can be reduced through physical activity."
Under Stroiney's direction and in conjunction with campus partners including Mason Recreation, the Center for Advancement of Well-Being, Student Health Services, and the Freedom Center on the Science and Technology Campus, Exercise is Medicine (EIM) Month aims to focus on encouraging the community to be active through activities like EIM Bingo, Women on Weights (an introductory session to the weight room for women), Dumbbells 101, and FUNctional Fitness.
There is also the university's partnership with BurnAlong to help individuals train for the Mason Nation virtual 5K, as well as multiple other virtual opportunities.
In addition, Mason is offering weekly walks with Mason's health care providers and personal trainers. Faculty and staff can also attend virtual and in-person informational sessions on managing their health numbers while students are encouraged to attend events on reducing stress with exercise. 
"With 'Exercise is Medicine,' we want to provide a free opportunity for people who might be hesitant to exercise to talk to health and fitness professionals, ask questions, and fit in physical activity using methods that work for them," said Becky Demus, assistant director of fitness for Mason Recreation.
Knowing that some people do not like to exercise or may feel uncomfortable in a gym setting, Demus said she wants to focus more on helping people get started on a physical routine and providing options for all fitness levels.
"We recognize that some people may have different interests, so we offer a variety of free group fitness classes like martial arts, boot camp, HIIT (high intensity interval training), and cycling," Demus said.
And for those who are motivated by competition, Mason Rec is offering Dry Triathlon involving body weight exercises, indoor cycling, and a treadmill run/walk in November, and a Power Meet in December, Demus said.
"We even offer outdoor adventures and intramural sports," she added.
Part of the purpose of Exercise is Medicine month is to create a healthy community to improve motivation and provide support at Mason.
"When you have a community with lots of activity, it no longer feels like exercise," she said. "Instead you spend time with people you know doing things you and enjoy and you begin to feel better both physically and mentally."
In 2020, Mason earned a silver designation from the Exercise Is Medicine® On Campus program—an initiative supported by both the American College of Sports Medicine and the American Medical Association. The silver designation recognizes Mason for engaging students, faculty, and staff in education initiatives and making movement part of the daily campus culture.
To learn more about all the exercise opportunities, visit the Mason Recreation website.