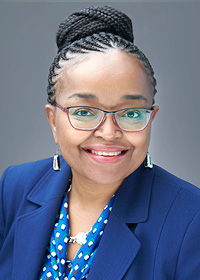 Titles and Organizations
Assistant Professor & MHA Online Coordinator, HAP
Biography
Dr. Maria Uriyo is assistant professor and MHA Online Program Coordinator in the Department of Health Administration and Policy.  She was Program Director at Medicalincs LLC, an independent minority owned healthcare consulting firm located in Maryland where she oversaw the Rare & Expensive Medical Conditions Program that provided care coordination services to clients residing in select counties in Maryland.   
Previously, she was a project manager for NCQA accreditation at Johns Hopkins HealthCare LLC's (JHHC) Quality Improvement Department where she successfully managed the reaccreditation of JHHC's 3 lines of business - Employer Health Programs (a self-funded health plan in Maryland), Priority Partners Managed Care Organization (a Medicaid Plan), and US Family Health Plan (a managed care program developed by the Department of Defense).  These 3 plans provided care to over 275,000 covered lives. 
Dr. Uriyo was the lead analyst in the JHHC Care Management Department where she was responsible for the creation of longitudinal data sets containing more than 15 million records to compare healthcare and pharmaceutical patterns before and after Lyme Disease diagnosis.  Other strategic projects included working with Priority Partners executives, the Chief Medical Officer and Provider Relations to build an algorithm that would successfully aggregate and generate monthly reports identifying plan members who were at risk for inpatient hospitalization.
She is the co-founder and executive director of Abacus Robotics, a non-profit that provides STEM learning opportunities such as competitive robotics, computer aided design and 3D printing to youth in Haymarket, VA.
Dr. Uriyo holds a Ph.D. in Food Science from Virginia Tech, and a Master's in Health Systems Administration from Georgetown University.