Body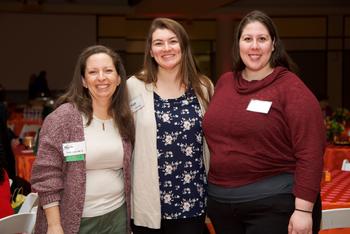 On February 14, George Mason University community members were served breakfast and gratitude at the Faculty and Staff Donor Breakfast held in honor of employees who had donated to university fundraising initiatives over the past year.
The Office of Advancement and Alumni Relations hosted the event on the Fairfax Campus for these community members who, in the words of Mason President Gregory Washington, had "doubled down on Mason, as professionals and donors."
In a video message, Washington noted that while most people do not give back to the institutions where they work, the assembled Mason faculty and staff were among the more than 800 community members "who chose to support our students and our university with a personal charitable gift."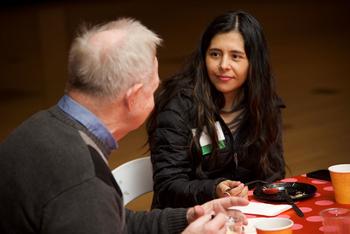 "This is the A-Team," said Provost and Executive Vice President Mark Ginsberg. "You are ambassadors, advocates, and allies…you make a great university even greater." Donations to Mason fund research and bring innovation in teaching methods and technology to campus, he noted, resulting in a lasting impact felt by current students as well as for students of the future.
Trishana Bowden, president of the George Mason University Foundation and vice president for advancement and alumni relations, stressed the importance of this generosity for Mason's students.
"As Virginia's largest public research institution, we serve a student body that represents diversity of all kinds, and expanding opportunities for students in financial need is a fundamental part of our mission," she said.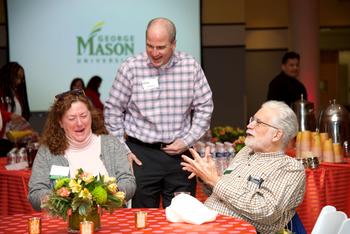 Gifts from faculty and staff directly affect student financial aid, academics, research, community services, and other resources across campus, she said, adding, "you are literally making a difference in the lives of our students and our university."
To close the program, Associate Vice President for Alumni Relations Jenn Robinson thanked the assembled guests for their help in supporting the Mason students who are "at the heart of our great university and the work all of us do each day."
"It all matters," she said, "and in the end, allows us to provide our students with a world-class education so they are prepared to leave here and change the world."