Body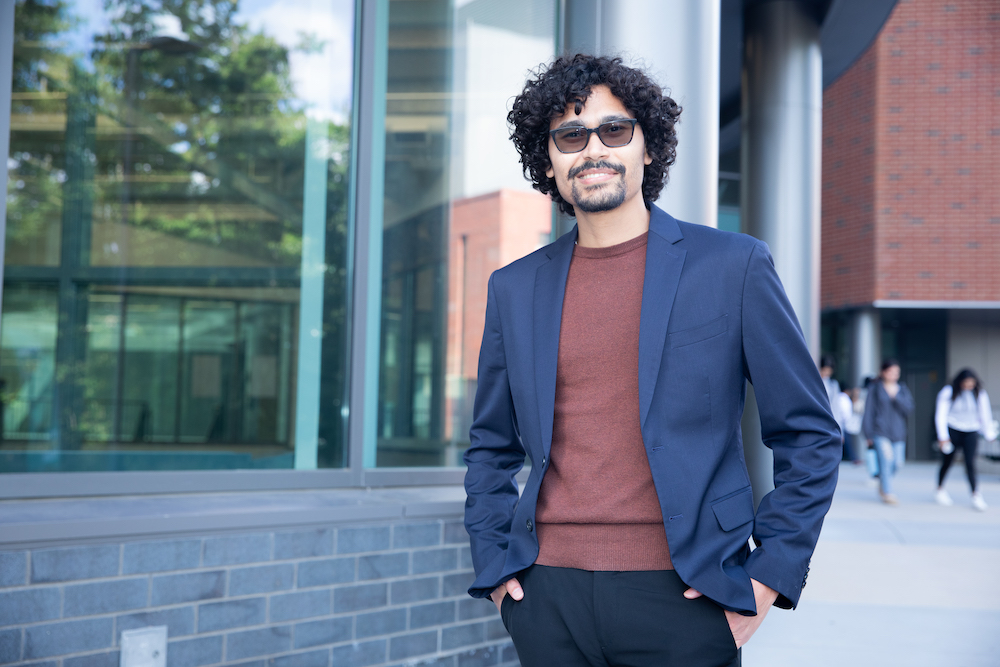 The prospect of immigrating to the United States from Honduras in 2007, although exciting, was not an easy decision for George Mason University doctoral student Rafael Esaú Hernández Dubon and his family, as it meant parting ways with the people, the culture, and an entire way of life. The move was necessary, however, because a life in the United States meant better opportunities.
Hernández Dubon knows what it's like to be a first-generation immigrant, to start over in an unknown place with a different language and way of life. He knows the dichotomy of a proud cultural and ethnic heritage that can be at odds with learning to operate in a multicultural society as a minority. 
There are a growing number of Latinx immigrant communities across the country whose members need economical and psychological refuge as well as relief. It is this psychological need that motivates Hernández Dubon, spurring research ideas and personal connections to ensure members of his community and their needs are not left in the shadows.
"Now I understand the language, but I remember not understanding what was going on and not having access to care and other services because of language barriers," Hernández Dubon said. "Having lived through no way of communicating that I needed assistance and am now in position that I can help in some way… that makes a huge impact in my world."
Thanks to his opportunities as a Mason PhD student in clinical psychology and shared experiences within the immigrant communities, Hernández Dubon knows he can serve as a bridge between mental health care and the Latinx communities in Northern Virginia. In fact, each time he provides psychotherapy to an immigrant or non-English speaker, he is humbled and strives to provide a gateway to success.
Hernández Dubon thrives in his work as a bilingual student clinician. Not many providers can counsel in Spanish, which can create barriers to patients receiving the assistance they need, he said, resulting in frustration, misinterpretations, misdiagnoses, and poor care. Being able to culturally connect with patients opens doors of trust and strengthens therapeutic allegiance between the patient and the provider, he said.
"It's a moving for me to see a person express how they are feeling without trying to make up words," he said.
Hernández Dubon came to Mason after earning a dual BS from Virginia Commonwealth University in psychology with a concentration in addiction studies, and philosophy with a concentration in philosophy and science.
Wanting to respond to the need for more bilingual psychotherapists, contribute to improved research diversity, and remain close to his family, he looked for clinical psychology Ph.D. programs in Virginia and found one in Mason's College of Humanities and Social Sciences. The  impact of the program's applied research piqued his interest. Even though he did not know how he would pay for the program, Hernández Dubon applied anyway.
A few weeks later he learned that he qualified for a Mason Graduate Inclusion and Access (GIA) Scholarship, which is reserved for first-generation, incoming fall semester doctoral degree students who are from an underrepresented population within their doctoral field of study at Mason, and who have demonstrated financial need.
Laurence Bray, vice provost of graduate education, knows how important the GIA Scholarships are to recipients and their growth as scholars.
"Building and growing the GIA program has been a priority for my office. It has been a privilege to observe each scholar grow and mature through their doctoral journey," she said. "Rafael has been a role model for balancing his educational goals and personal life while meeting the additional challenges that come from being a first-generation doctoral student."
Now in the third year of his PhD program, Hernández Dubon is starting to ponder how his research interests can be applied to the Latinx community as he focuses on improving access to mental health care and inclusion.
His primary mentor, Tara Chaplin, associate professor of psychology, has encouraged his research focus, knowing that any work conducted with the Latinx community will have a significant impact as the nation moves to a majority minority status.
"Rafael is passionate about increasing research and clinical services to Latinx families in the community," Chaplin said. "[His] focus within the Latinx community is critically important. This community is historically under-served and under-studied and has unique strengths and challenges that deserve to be understood by researchers."
Hernández Dubon's GIA scholarship allows him the opportunity to tailor his experiences at Mason according to his research and academic interests. He volunteers at Casa Chirilagua, an faith-based nonprofit that primarily serves the Latinx community, so he can improve his first-hand knowledge about people's experiences to inform his research and clinical directions.
He notes that while the Latinx community has been systematically overlooked in health care, medical studies, and interventions, the people make up for it with resilience. It is that resilience that motivates Hernández Dubon, and he is carving out his own path to ensure his community has a champion.
Read about more GIA Scholars