Body
College is a time of self-discovery, filled with opportunities and potential, and peppered with friendships, independence, and the experiences the world has to offer.
But for a significant number of students, the weight of expectations from parents, teachers, peers, society, and even themselves, can continually increase. In addition, students must adapt to a new lifestyle, with arguably less structure than ever before. Add curiosity, peer pressure, and stress, and the potential is there for a perfect storm that leads to risky substance behaviors.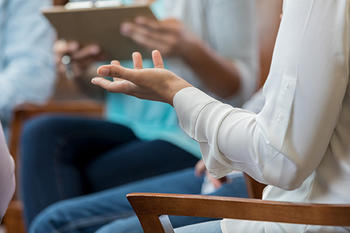 The good news is that through services offered by George Mason University's Student Health Services (SHS) and the Student Support and Advocacy Center (SSAC), students can be proactive in understanding what constitutes risky substance behavior, keeping their own habits in check, getting support, and spotting potential issues in their or others' behavior.
"It's important to normalize the idea that students struggle with a lot of different mental health issues, and to reduce feelings of shame. The world has a lot going on with uncertainty, challenges and things to worry about," said Ken Griffin, professor of Global and Community Health. "It's OK to admit that you're struggling and it's OK to reach out for help."
Alcohol flows quite freely on college campuses. According to a 2019 study by the National Survey on Drug Use and Health, 54.9% of full-time college students in the survey between the ages of 18 and 22 drank alcohol in the past month. That is more than 10% higher than non-college students of the same age.
Though drinking has long been the most common form of substance abuse in college, the National Institute on Drug Abuse reports that the use of cannabis, as well as prescription and illicit drugs, is on the rise and used either as a way to escape from stress or to boost academic performance.
College students may use alcohol and drugs in social situations to connect with others and build a sense of belonging. They might also believe those substances can alleviate feelings of anxiety and depression, and build self-worth. But over time, Griffin said, "Substance use can escalate and exacerbate those problems and begin to interfere with social and academic functioning."
As brain development continues into the mid-20s, the introduction of alcohol or drug use can both impair brain maturation and cause the brain to adapt to the substances in its system, said Chris Rzengota, associate director of Behavioral Health Services in Student Health Services at Mason.
"Substance use is all about taking care of a wide variety of needs," Rzengota said, "but habitual use hijacks the brain and impacts one's motivation, mood, and relationships."
Alcohol and drug use can also stunt emotional and social development which can lead to an increase in academic problems. Furthermore, many reports of physical and sexual assaults are related to individuals being under influence of alcohol or drugs.
"Excessive drinking [and substance use] is not only a major health concern in the long term, it can also lead to immediate tragedies such as assault, injury, arrest, and death in the short term," Griffin said.
Warning signs associated with substance abuse include increased isolation and social withdrawal; failed commitments; detachment from friends; acting secretively; showing less interest in activities; a decrease in academic performance; mood swings; irritability; and unexplained changes in behavior or personality.
Partnering with students on their developmental journey through education and support is one of the main underpinnings of services offered by Mason's Student Support and Advocacy Center. According to Delishia Ashworth, SSAC's assistant director for Substance Use and Recovery, Mason's programs help students address substance use and recovery issues with no judgment or discrimination. The center offers support spaces and can connect students to treatment options.
"What matters is that students get the compassionate, evidence-based treatment that offers the best chance at sustained recovery," Ashworth said. "We want all of Mason to be pro recovery and OK with talking about substance use so no one feels stigmatized. That way, students feel comfortable seeking help or support. We want to remove any barriers to student success."
SSAC provides a variety of substance use and recovery services, including educational workshops that cover substance use, risks, and harm; one-on-one education support meetings; recovery meetings; and presentations by substance peer educators.
SSAC also offers Mason's unique program, Patriots for Recovery, an open peer-to-peer support group for students who identify as being in recovery for a substance use disorder, eating disorder, or other process addictions.
"It's important that students know we have a spot for recovery and there is something on campus for them," Ashworth said. "Groups provide a space to talk about common experiences, to process the impacts of day-to-day recovery, and to connect to others in recovery."
Students also have the option to go to Student Health Services, where they are screened for risky behaviors through an initial questionnaire to ensure they receive the proper care. From there, they are referred to substance use professionals.
SHS assistance ranges from in-house meetings with therapists or counselors to medical care. That includes help finding detoxification services, intensive outpatient services or ongoing specialty treatments. SHS staff can help students learn coping skills and other life skills to help them be more successful, less triggered, and at a lower risk for negative outcomes.
"We talk about risky use with those who come into SHS because everyone benefits from early intervention," Rzengota said. "It is important to identify potential risk factors and what can be done to help in order change behavior before it becomes a bigger issue."
SHS substance use services are free for students and are completely confidential.
---