In This Story
People Mentioned in This Story
Body
Assistant Professor Karen Trister Grace shares eight forms intimate partner violence, sometimes called domestic violence, can take. Some are commonly known and others are less visible.
Nearly 1 in 4 women and nearly 1 in 10 men have experienced intimate partner violence (IPV) in their lifetimes, according to the Centers for Disease Control and Prevention (CDC). IPV, sometimes called domestic violence, involves romantic partners who may or may not live together, and this violence can take a variety of forms.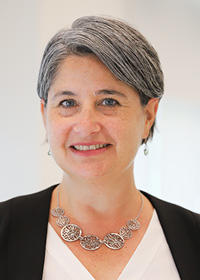 Karen Trister Grace, assistant professor in George Mason University's School of Nursing and a Certified Nurse-Midwife, is an expert on reproductive coercion, a lesser-known form of domestic violence. October is Domestic Violence Awareness Month, and Grace wants to increase awareness of different types of IPV.
"There are forms of IPV that may not be perceived as abusive or coercive at first glance. The first step in getting help is identifying behavior as abusive," said Grace.
The CDC identifies four types of IPV—physical violence, sexual violence, stalking, and psychological aggression. Physical violence is the most commonly known type of IPV; however, there are lesser known and less visible types of IPV, and IPV can happen in person as well as online.
Types of Intimate Partner Violence
Physical violence – Hurting or trying to hurt a partner with physical force, such as hitting, punching, beating, choking, or kicking.

Sexual violence – Forcing a partner or attempting to force a partner to participate in any sexual act, including non-physical acts such as sexting, without consent.

Stalking – Repeated, unwanted attention and/or contact by a partner that causes concern for one's safety. This may be via phone, text, mail, or in person.

Psychological (mental/emotional) violence – Verbal or non-verbal communication with the intent to harm another mentally or emotionally to exert control over the other person. This may include intimidation, threats, harassment, gaslighting, criticism, monitoring activities, or preventing a partner from doing things they enjoy or seeing friends or family.

Reproductive coercion – Pressure to become pregnant, sabotaging or blocking access to birth control methods, or controlling the outcome of a pregnancy.

Economic/financial abuse – Controlling a partner's access to or use of money or economic resources, such as tracking their spending, preventing them from becoming financially independent, disrupting employment or education, and stealing or disposal of assets.

Isolation – Restricting a partner's movements/activities or whom they socialize with and their ability to access resources.

Technology abuse – Using technology to harass, monitor, or control a partner, such as by text message or on social media, non-consensual image-sharing, or recording a person without their knowledge or consent.
These are not the only forms of IPV. If you are experiencing domestic violence, you are not alone and help is available. Visit thehotline.org or call the National Domestic Violence Support Hotline at 1.800.799.SAFE (7233) or text "Start" to 88788 to speak to a trained advocate. Reaching out is the first step to improving your situation.
##
Dr. Karen Trister Grace is an assistant professor at George Mason University in the School of Nursing. Her research interests are in reproductive coercion, pregnancy intention, and health disparities. She is lead editor of the forthcoming third edition of the "Prenatal & Postnatal Care: A Person-Centered Approach" textbook and has published numerous papers on reproductive coercion and intimate partner violence. She has been a practicing midwife for 22 years and has taught in nursing and midwifery education for 15 years.
For media inquiries about Mason's faculty experts in intimate partner violence, contact Michelle Thompson at 703-993-3485 or mthomp7@gmu.edu.
About Mason
George Mason University, Virginia's largest public research university, enrolls 39,000 students from 130 countries and all 50 states. Located near Washington, D.C., Mason has grown rapidly over the last half-century and is recognized for its innovation and entrepreneurship, remarkable diversity, and commitment to accessibility. In 2022, Mason celebrates 50 years as an independent institution. Learn more at http://www.gmu.edu.
About the College of Health and Human Services
The College of Health and Human Services prepares students to become leaders and to shape the public's health through academic excellence, research of consequence, community outreach, and interprofessional clinical practice. The College enrolls more than 1,900 undergraduate and 1,300 graduate students in its nationally-recognized offerings, including 6 undergraduate degrees, 13 graduate degrees, and 6 certificate programs. The college is transitioning to a college of public health in the near future. For more information, visit https://chhs.gmu.edu/.